Donate to our year-end fundraiser!
Our Story
Mask Oakland is a grassroots initiative that emerged in smoke and fire to provide the most vulnerable in our communities with the simplest recommended tool: respirator masks.
In 2018, we used social media to raise funds for and deliver over 85,000 masks, more than all Bay Area governments. We focus on direct outreach to the homeless in Oakland and also reached provided thousands of masks to Berkeley, San Francisco, Sacramento and Modesto, working with dozens of community organizations to expand our reach.
Next Steps

"All efforts pale compared to the East Bay volunteer group Mask Oakland"
– Fast Company
After 2 years of crisis response work (we started in 2017), we now see opportunities to work year-round to enhance regional preparedness, to strengthen and expand the vibrant networks that yielded dozens of volunteers and thousands of donations.

We solemnly honor those who lost their lives in these fires, and refuse to forget the thousands of people without adequate shelter throughout our region.

The work continues. Please give your support today.
In partnership with East Oakland Boxing Association, a 501(c)3 organization, all new donations to Mask Oakland through the above link are tax-deductible!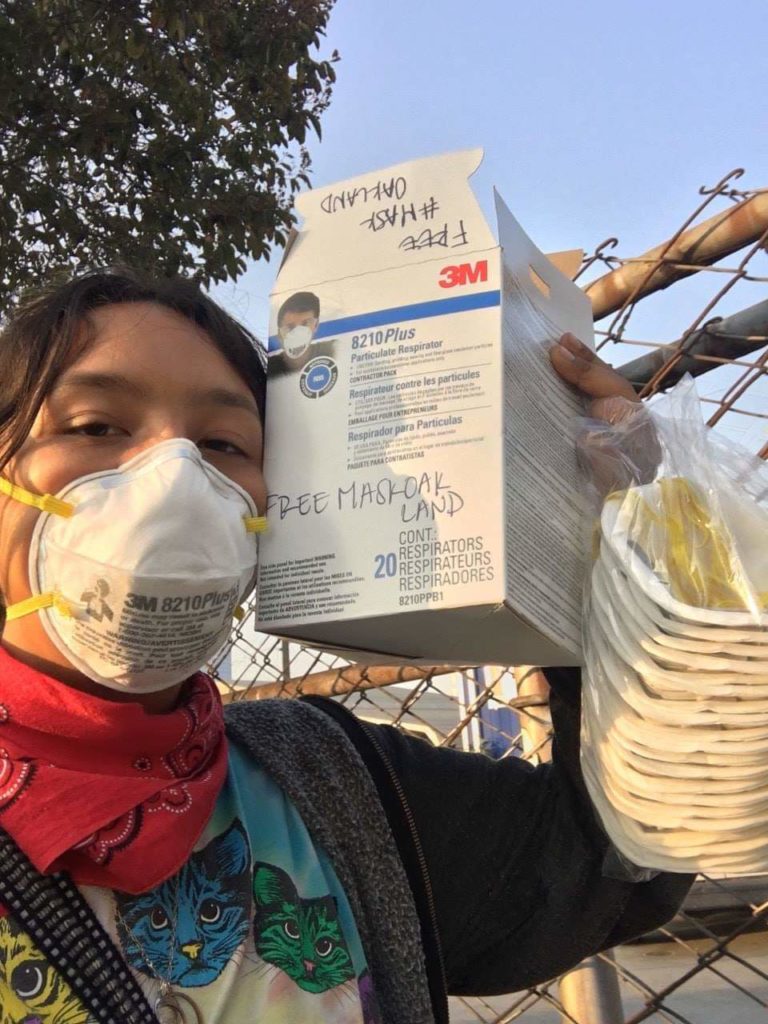 Press

"Born out of the 2017 Northern California Firestorm … Mask Oakland is one of a number of community-led organizations emerging in response to the lack of official action on air quality problems."
Huffington Post

"Closing windows and staying inside isn't an option for the thousands of homeless people living in Oakland, Berkeley, San Francisco and other Bay Area cities. They're stuck outside until the smoke clears."
SF Chronicle

"People need to breathe. Let's help people breathe."
–The Guardian

"How to Help People Affected By California Wildfires… #2. Support Local Groups Like Mask Oakland"
–Teen Vogue

Mask Oakland started on Twitter and is also on Facebook!

Site expansion is underway.
Thanks to all our volunteers and donors for your ongoing support!